IMPORTANT NEWS
LATEST NEWS
August 22 2018

March 23 2018

February 12 2018

February 7 2018

December 14 2017
Enthusiasm & Passion Mark Ivy's WEEK FOR CHANGE
Date: October 18 2016
Such enthusiasm and passion marked Ivy Education Group's inaugural "WEEK FOR CHANGE" which kicked off on Monday September 19th. Over 3,000 students from 15 campuses across China have participated or will be participating in this initiative. Our goal? To help raise money and help make a difference in both our community, and beyond.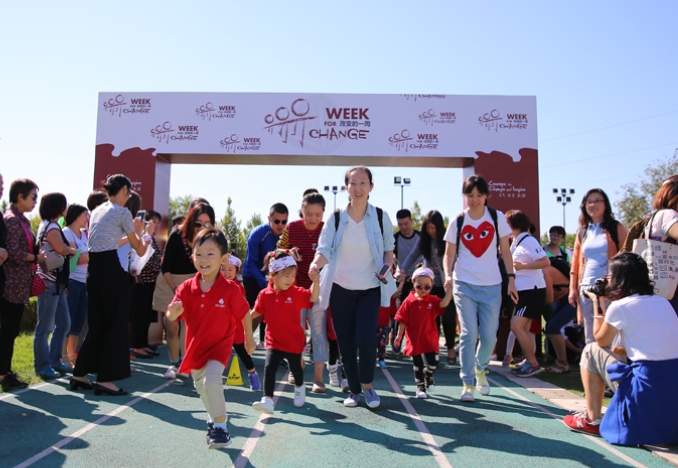 There was laughter. There was music. There was cheering. And there was A LOT of running!
Such enthusiasm and passion marked Ivy Education Group's inaugural "WEEK FOR CHANGE" which kicked off on Monday September 19th. Over 3,000 students from 15 campuses across China have participated or will be participating in this initiative. Our goal? To help raise money and help make a difference in both our community, and beyond.
BEIJING CAMPUSES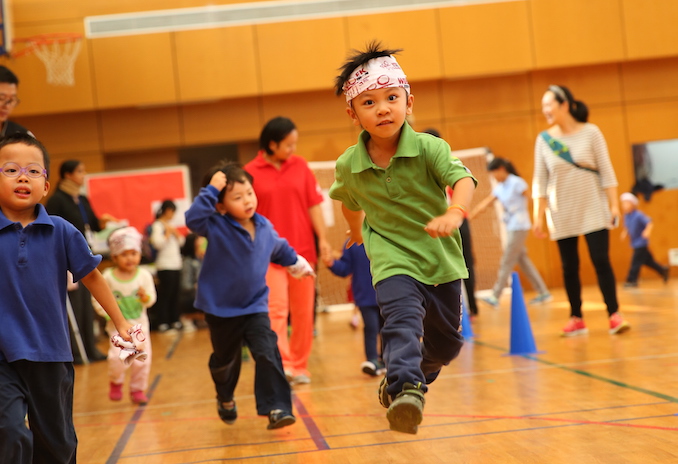 In Beijing, the event kicked off under perfect weather conditions on Monday, September 19th. Over 100 students from Ivy Academy Central Park and East Lake campuses descended upon host and fellow Ivy Education Group school Daystar Academy.
Students first warmed up, proudly wore their "WEEK FOR CHANGE" bandanas… and then off they went! Students walked, scooted, biked, rollerbladed… and ran their way to make a change. They had a chance to run half an hour, before wrapping it up for the day.
Over the next few days, an additional 350 students, accompanied by teachers and parents from other Ivy Schools in Beijing took turns coming to Daystar to participate in "WEEK FOR CHANGE". It was incredible to see our nursery kids (2 years old), running with as much power and enthusiasm as their older kindergarten students (6 yrs old)!
Finally, on Friday, it was Daystar Academy's turn. The pollution - forcing them to move their event indoors - didn't lessen the students' enthusiasm one bit! From Daystar's Toddler class in the morning, to the Middle School students in the afternoon-all had a blast running… to make a difference.
CAMPUSES OUTSIDE BEIJING
Outside of Beijing, the enthusiasm was just as amazing! Below are quick over-views from some of our campuses, and their descriptions.
IVY THREE THOUSAND CASTLES CAMPUS (SQ-CHENGDU)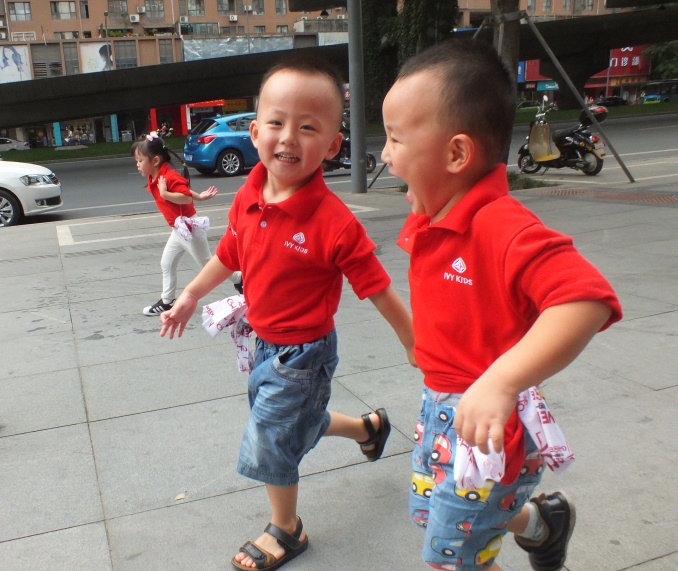 On September 30th, 2016, Ivy MI Kindergarten Three Thousand Castles Campus (Chengdu) hosted a "Week for Change" Charity Run. This activity aimed to raise public welfare donations to help our community and people making changes.
More than 300 students and parents participated in the activity. They wore "Week for Change" bandanas and did the preparation work. After a brief warm-up exercise, they were off! Students of different ages in different classes ran under the guidance of parents and teachers. They ran around the Three Thousand Castles Community. Their passion for sport and love for charity were evident, and also influenced local residents and store owners. The students showed their creativity and determination for change in their own ways in the process of running.
After the activity, parents donated with enthusiasm, while children also donated their own pocket money. We will do charity with the money for people in need. Thanks to the participation of all children and parents.
IVY WATERFRONT (SA-TIANJIN)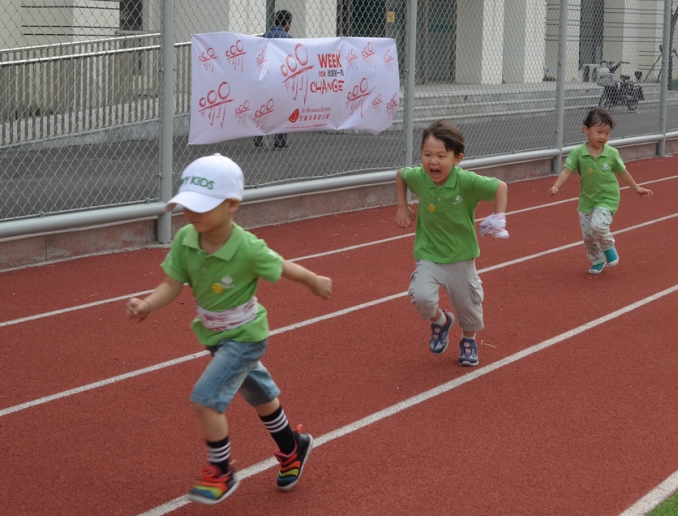 On September 24th, 2016, Ivy Waterfront Campus (Tianjin) successfully hosted our "Week for Change" Charity Run. Both children and parents had a wonderful time. The children raced against each other on the playground, and their passion for sport spread to their parents as well. During the three-legged race, parents and children worked together as a team, and enjoyed the family time. At the end of the activity, parents donated with enthusiasm, while some kids even brought their piggy banks to donate their own pocket money.
IVY BILINGUAL SCHOOL SUMMIT RESIDENCES (HH-Ningbo)
On September 22nd, Ningbo HH held our "WEEK FOR CHANGE" charity event at the campus. The original idea of "WEEK FOR CHANGE" was to invite all the Ivy students to run and raise funds for charity. However, the playground of Ivy Summit Residences Campus was not big enough to hold a charity run event for all the students in the campus at the same time. So what could they do? Was this a reason to stop students from participating in the "WEEK FOR CHANGE" charity event? Certainly not! After discussing with the students, they were inspired by a DFC project. They decided to organize a "Charity Art Auction" and "Baking Cookies for Charity" instead of running! Every student showed a very sweet and lovely happy smiling face. How beautiful and wonderful they are!
IVY ECO-CITY CAMPUS (EC-TIANJIN)
The school hosted a "Week for Change" Charity Run on September 23rd, 2016. The activity aimed at spreading the DFC spirit, encouraging children to exercise, and letting them know that they can be the change. The activity began with a dynamic opening dance, then the race started! With the theme song of Running Man, the children broke the kindergarten record---18 laps (300 meters/lap)! Maybe 5400 meters was not difficult for adults, but it was indeed amazing that the children did it. We want to involve more children in DFC through the charity run, and encourage them to be part of making the world a better place!
IVY CAMPUSES IN XI'AN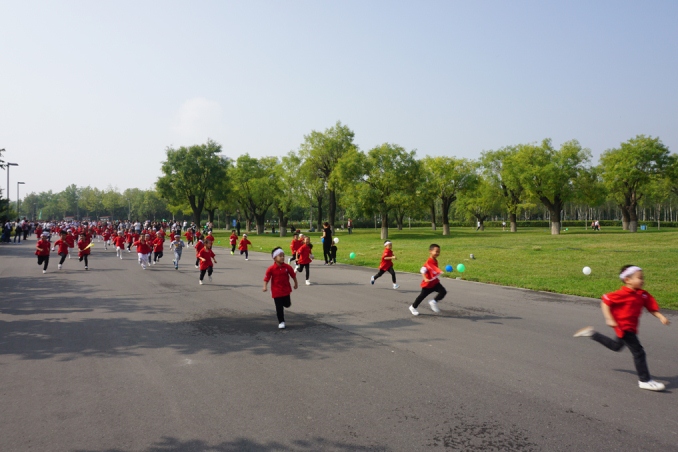 On Monday, September 22nd, three Ivy campuses in Xi'an launched a "WEEK FOR CHANGE" charity activity. They also made a great slogan - "Concerned about the public welfare, run for love!" Early in the morning, all the families and teachers from all the three campuses gathered in Xi'an Chanba Expo Park. Everybody was excited for the charity run. The campuses advocated for a healthy way of life. All the Ivy students and parents joined the charity run with great enthusiasm! Half of the fund will be used to support DFC's upcoming "Be The Change" conference organized by Ivy Education Group in December, and the rest will be used for their own campus' charity initiatives.
WHY DID WE RUN?
For Daystar students, they were running in part to raise money for their long-standing support of a nearby children's Healing Home (providing fresh fruits and eggs for a whole year). Schools outside Beijing were also able to pledge part of their funds raised to a local cause.
But the remainder of the funds raised is going towards something completely unique-supporting Design for Change's "Be the Change" conference, which is taking place in Beijing this December!
For those of you who may not be familiar with Design For Change, DFC is a global movement which believes in a very simple premise: that there is a "Superhero" in every child.
For over a year, Ivy Education Group has embraced and implemented this movement within our schools. And when we knew that DFC's annual global conference was going to take place here in Beijing this year, we jumped at the opportunity to be a key organizing partner.
Hosted by Daystar Academy, the conference will include empowering keynote speeches from young talents, workshops and performances.
But most importantly, DFC partners and students from all over the world…from Guatamala, to South Africa, to India will personally share their stories of how they are making a difference in their community. In the mean time, our students will have a chance to host, interview, share, exchange and hopefully be inspired by their fellow peers. Over 500 participants from abroad and the Beijing community are expected to gather over the two-day conference on December 10th and 11th, for what will for sure be an educational and memorable event.
By supporting BE THE CHANGE Conference, we believe that we are playing an important role in providing a forum, and nurturing the changemakers of tomorrow. And are honored to be doing so.
OUR RESULT
It was an incredible week-with incredible results. As of the deadline of this publication, 14 of our campuses have participated, to raise a total of:
196,638.90 RMB!
The majority of the funds raised by campuses in Beijing will go towards the Be the Change conference, while 50% of the funds raised outside of Beijing will go towards both the conference, and the remainder to a local cause. Like we shared. It about making a difference at home, and supporting our changemakers of tomorrow.
Every year in going forward, Ivy Education Group will identify a cause that we believe in. And together as one unit, with over 3,000 students, we will run to help raise money for that cause. Because we believe that there is strength in number. And that it's our social responsibility to always think of our community as well.
Our heartfelt thanks to everyone for your generosity and wonderful support of Ivy Education Group's inaugural WEEK FOR CHANGE. We couldn't have done it without you!